Maybe you're thinking about having sex with your ex "just one more time." Or, she could be offering "ex-girlfriend sex" – and you're wondering whether to take her up on the offer. Perhaps you've already hooked up with your ex, and you're considering what to do next. Having sex with an ex is risky business, but it can work out for the two of you under certain circumstances.
Should I have sex with my ex?
If you haven't already indulged in sex with the ex (but feel the urge), your decision to have sex with an ex hinges on a wide range of factors:
Do you want sex, to get her back, or just some time to decide?
Are you worried about finding someone new or better?
Do the two of you want to have sex for the same reasons?
Is she showing indicators of interest (IOIs)?
Will having sex with the ex help you get her back – or is now the wrong time for that step?
Is she your ex-girlfriend, ex-live-in-girlfriend, or ex-wife?
Do you have children together?
Why did you break up in the first place?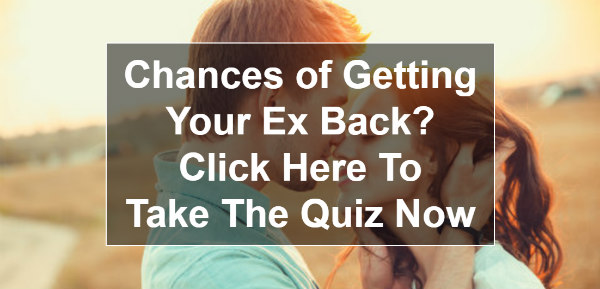 If you've already slept with your ex, check out the special section at the end of this article for making sense of this new reality, deciding if you should continue, and creating a winning strategy.
Is it wrong to sleep with your ex?
Yes if the two of you don't want the same thing. However, your ex may want what you want. If you don't know what you want, she may not, either. If you're looking for a convenient hookup as you move on, she may, too. If you miss her and want her back, she may feel the same way. But, she may not be looking for the same thing you are.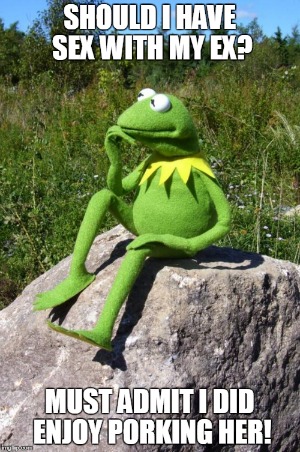 In some cases, sex with the ex is the right move – but tread carefully. You need to examine her behavior, agenda, and motives. Consider these perspectives on the "should I have sex with my ex-girlfriend" question:
Sleeping with your ex to make up your mind about her – If you don't know what you want from the relationship, sex can help you decide whether or not to get back together with your ex. Without the constraints of a relationship, both of you can take more liberties and ask for what you really want in bed.
Make sure both of you want the same thing (the key to success in any of these scenarios). After a no contact period, let her know you aren't sure you want to get back together and want to connect with her sexually a few times to make up your mind.
Yes, you run the risk of leading her on if she desperately wants to get you back. However, you risk hurting yourself if you decide you want to give it another go and she says no. If you and her both genuinely don't know what you want after a breakup, you can take this route – but only with a massive amount of communication and a time limit.
Talk with your ex after hooking up (but not immediately after sex – wait until the next day or so). Meet in a neutral location like a coffee shop and have a frank discussion. Don't make it a date – pick a time in the early afternoon before another commitment so the two of you won't fall into old dating patterns and avoid this difficult conversation with "make up" sex. It sounds appealing, but it's just avoidance behavior. If you and your ex are really going to get back together, you need time, space, and better communication than before.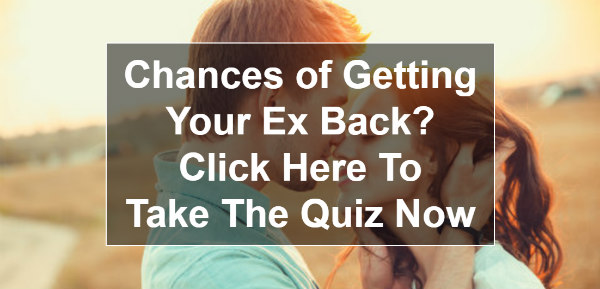 Sleeping with an ex who loves you when you just want to get laid – If you're checking the "having sex with ex" box just to get your rocks off, make sure she feels the same. If you know you don't want your ex back and see them as an easy target for getting your needs met, save your ex the heartbreak and find someone new.
Remember, have compassion for your ex. Intercourse typically influences women's feelings much more than men's. Don't get me wrong – I'm not saying men care less about women than women do about men. The difference is in the timing: women cross a major emotional threshold when they have sex with a guy. Guys get attached more gradually: sometimes before and sometimes after sex.
Because there isn't an emotional "pill," women's bodies don't know they're having safe, fun, casual sex. On a physiological level, women are gambling on not getting pregnant every time they hook up with a guy. If you get back with your ex and then leave her in the dust, you're reopening the wound of your breakup and then making it worse.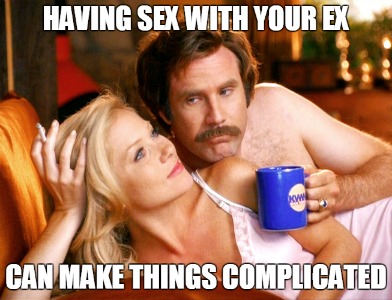 Sleeping with an ex you love when she only wants to get laid – If you're heartbroken and she isn't that into you anymore, remember she may just be using you for sex. Though this sounds like a cliché men's fantasy, it isn't. Casual sex when you want more is torture.
Don't be desperate and don't cling to her. If she's willing to have sex with you when it's obvious she's moving on to other guys, remember the "transition period." Many women keep sleeping with their exes after breakups – but not to get back together. They want the security of a guy they know will take them back if their new relationship doesn't work out.
You deserve much more than just being someone's backup plan. Don't put yourself through this heartache. Even if she gets back with you because her new guy didn't want her, your old problems will still be there. She's looking for a new guy for a reason – don't take her back just so she has more time to keep playing the field behind your back!
Sleeping with your ex to get her back – If you're certain you want your ex back (and you think she feels the same), wading through the murky "sex with ex girlfriend" waters could pay off. Sex with the ex plays a huge part in getting back together. (Remember what I said earlier about sex meaning triggering women's attachment circuits more than men's.)
If your ex-partner is showing signs of possibly wanting you back, having sex with an ex may be appropriate. Remember to maintain a healthy balance between your desire for her and hers for you. If this is going to work out, you need a solid plan on how to get your ex girlfriend back, self-control, and a long-term outlook. You may be able to get her back in bed – but can you get her back in your life?
You can only fix your relationship and keep it going this time if you address the core reasons the two of you broke up. You need to get real with each other – getting back in the sack is important – but just one of many milestones on your journey together.
Alternatives to sex with the ex
If you're ready to move on and feel the urge to hook up with your ex, refer to the "Sleeping with an ex just to get laid" section above. Have some compassion (and some class) and move on.
Luckily, the period right after a breakup is the perfect time for casual sex. Put away the Kleenex, stop binge-watching Netflix, and go out with your buddies. Not only will moving on help you avoid "one-itis" (focusing on one woman as if she's the only one in the world who's right for you), it will help you get amazing results with new women.
Think about it – when you're in a normal emotional state (not getting over a breakup), you'll naturally take things slow with new women. Because every hookup might lead to a longer-term relationship (LTR), you want to say the right things. You want to give yourself the option of converting your short-term relationships into longer ones, if things go well.
However, when you're wounded after a relationship, the LTR circuits in your brain are still focused on your ex. That's why you're reading this article, right?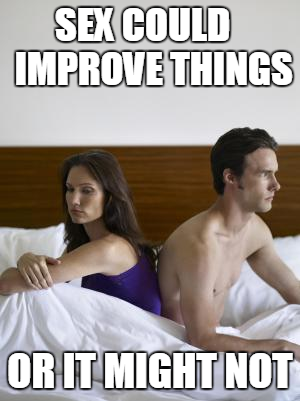 If you're a typical shy guy, use the magical few weeks after a relationship ends to enjoy the massive confidence this phase brings. Give your ex time to heal, go out, and meet new women. Not only is moving on the right thing to do in certain cases – it's very attractive. Your ex will see you in a new light once she realizes you can attract and sleep with other beautiful women!
What if it's obvious my ex wants to have sex?
She's flirting, sending sexy texts, and maybe even finding excuses to hang out with you and your buddies. It's fair to say she wants you back – at least in bed. However, does she want any more than that?
It's time to examine her motivations in detail. As I said above, she may want you back – or only as a backup plan. Or, she may not know what she wants.
I know it's tempting, but don't get too excited just because your ex-girlfriend wants to fuck. If you've read this far, you know women have various agendas for hooking up with their exes.
If your ex wants to have sex with you, examine the power relationships that existed before you split up:
Who broke up with whom?
Did you break up in a fight, or without much passion?
Did the person who initiated the breakup lose interest in the other, or were they seeking better treatment?
Did either one (or both) of you cheat?
Who made the decision to break up – and why?
The person who chose to end your relationship has the upper hand in certain ways. If she broke up with you (probably why you're reading this article), you probably need to re-invent yourself in her eyes and regain her respect. That's what my guide on how to win a girl back is for. However, if she broke up with you because you were too much of a "bad boy," read on.
Breakups are rarely (if ever) "mutual." Perhaps she suggested it and you agreed, which equals a 70/30 split in her favor). Maybe you found out she was cheating and ended things. Just because you ended it, it isn't 90/10 in your favor. She showed disinterest in you by cheating (and by letting you find out about it). I'd say this comes to a 60/40 split in her favor (because you ended things firmly and didn't let her get away with it).
Yes, you may have the upper hand in your relationship after your breakup. If you broke up with her because of her crazy/inappropriate behavior, she will probably try to get back in bed with you (80/20 in your favor). If you broke up with her because you don't find her attractive anymore, she definitely wants you back – but may not risk a second rejection by offering sex.
Do you still have strong feelings for each other?
If the two of you broke up in a passionate fight, you have a good chance of getting back together. Just don't do it too fast. Couples fight when they want each other but don't want to compromise.
Imagine – you want her to stop flirting with other guys but want her so badly you overlook it sometimes. Eventually, you lose your temper when she talks about how much she likes a "friend" of hers. Meanwhile, she has a lot of attraction for you but doesn't like how bossy and controlling you are.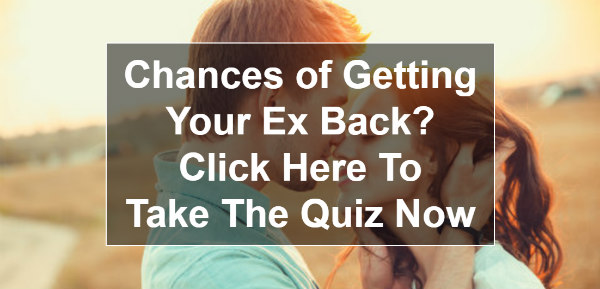 In the above example, you're responding to her disrespect with controlling behaviors. She's feeling trapped and asserting her independence. By reacting (not responding) to each other, you're just adding fuel to the fire, which will quickly get out of hand.
You and your ex need to communicate, take time to mature, and compromise. You have to reel in your jealousy; conversely, she needs to respect your feelings. The trick is to do this at the same time. You don't want to give an inch – and neither does she.
Agree to take "baby steps" toward getting back together. Define small, concrete steps for each of you to take. Build on this success with more mutual compromises until you get back together – and for the rest of your relationship!
Have you and your ex "lost the spark," or has on one of you increased their expectations?
If you aren't interested in her (physically) anymore but want to stay with her for other reasons, think again. Do you really want to get back together, just to go through another breakup?
If you don't want to have sex with the ex, don't. You can't heal your relationship that way. It's time to move on in that case.
To your knowledge, is cheating an issue?
If you cheated and she wants you back, realize that the power dynamic has shifted between the two of you. She now has a wound that she can draw on whenever you're having a disagreement. The guilt and regret you feel about cheating are necessary feelings for the healing of your relationship. However, your ex can also leverage them to get what she wants, going forward.
Sex with the ex can create a new bond after cheating, but be prepared: her emotions will probably change dramatically from day to day. After behaving in a lovey-dovey way and sleeping with you, she may well feel safe to hurl abuse in your direction. Sex can help, but don't see it as an end to your relationship problems. It will take a long time (and many hills and valleys) to get through this and fix your relationship.
Over time, you need to agree with her that she can't keep using your cheating episode against you. At some point (after you've won her back), she needs to forgive you and start over with a clean slate – or move on without you. Don't force this choice too soon, just be aware that it's necessary and pick the right moment to stand your ground.
You need to apologize and—more importantly—demonstrate that you can be trusted. This process will take a long time, and you need to be absolutely certain you want to get back with this woman for good. She'll certainly make you work for it!
If she was the one who cheated, she probably doesn't respect you. You need to enforce strong boundaries and wait to have sex with her until you can trust her again. It isn't enough for her to say she won't cheat on you again – you need to know why she did it in the first place.
Sad to say, your ex probably cheated on you because she wanted someone higher up the food chain. She was likely keeping you around until she got this guy (or one of a number of guys) to commit. Remember – women can usually get sex by throwing themselves at guys, but not all of them will stick around.
You need to fix this situation by showing her you're a stronger man than she thought – as strong or stronger than the guys she cheated on you with. This demonstration process will take time – and it may be better for you both to see other people while you get your shit together. Besides, it's only fair for you to enjoy hooking up with others, just like she has done, right?
One exception to the above strategy applies to the rare case that you're a very strong, alpha man – and she cheated on you with a weaker guy. (She may have thought you were cheating on her and started looking for a backup guy.) In this case, she wants the opposite of the previous example. She wants you to be weaker and more vulnerable (at least when you're alone with her) – not more of a 'bad boy'.
If you want to get back with her, you have a good chance. It will take some work on your part to let her win once in a while and compromise more often. However, if you show her you want to reconcile and she sees you change, she'll surely have more attraction for you than a weaker guy.
What if she isn't giving me any signals – should I try to have sex with my ex?
Yes. Women have an amazing ability to mask their true feelings. (As I explain in the Finding the Perfect Time section below, you need to do this too!) It isn't about deceiving her. It's about showing her you're strong enough to go out and socialize – even when you don't want to.
If your ex isn't showing signs of interest, be very careful to do the same. Don't express emotions too soon and look weak. Instead, examine the signals she's putting out there: Is she posting on social media about the value of love and commitment (a good sign she wants to get back together unless you cheated)? Is she posting about the value of adventure and independence from men (not a good sign)? Remember, she may be very subtly communicating her feelings to her friends (to get support and attention) with images and shares, not deeply personal (and obvious) social media posts.
The best you can do if your ex isn't giving you any signals is to wait her out in "observer mode." Don't suggest communicating for the purposes of fixing your relationship. After your no contact period, continue with only the slightest of communication. Restrict yourself to very slight moves like "liking" her posts, but only if they sub-communicate neediness on her part (not independence from men, etc.)
If she contacts you because of the aloofness you're demonstrating, be sure to take it slow. End text/social media messaging conversations before she does, especially if she doesn't flirt. Keep sexual innuendo out of it – simply showing her attention communicates your willingness to hook up.
Drive her crazy by demonstrating strength and accepting she has other options in the dating pool – though none as good as you, of course!
Can sex get your ex back – and is now the right time?
Because sex dramatically affects women's attitudes toward guys, you need to choose the right moment to hook up with your ex. But the short answer is that yes, sex can actually get your ex back in some cases.
Risks of hooking up too soon with your ex
No matter how much you want and miss each other, you and your ex probably won't benefit from jumping back in the sack. You may still have the hots for each other, but this doesn't address the reasons you broke up in the first place. Typically, these reasons revolve around the power issues between you.
For example, if you don't enforce a No Contact Period, you could be setting yourself (and your ex) up for a destructive breakup/makeup cycle. By giving into your desires (and possibly your ex's urgings) to have sex too soon after your breakup, you show neediness and give away your power. At each step of the getting-back-together process, you need to demonstrate your desire to walk away – just as much as your willingness to give it another shot.
After breakups, women may keep having sex with their exes while they test out their new boyfriends for suitability. Don't set yourself up for pain: if you don't realize she's in a transition time and assume the two of you are getting back together, think again. You may be only her backup plan. If the new guy she's sleeping with bails out on her, she can keep you around via 'sex with the ex' until she finds something she deems better.
Remember – you and your ex need to communicate about your core issues. This process takes time and effort – not makeup sex. If you get back together too quickly out of loneliness (or horniness), you'll probably break up again soon – and maybe for good!
Risks of hooking up too late with your ex
Conversely, you don't want to wait too long to have sex with your ex. If the two of you are working through your issues and you feel a strong momentum towards success, consider letting your walls down, risking getting hurt, and sleeping with her. You don't want her to get frustrated with the process and give up.
The trick is to ease slowly back into intimacy. For example, you could give her a kiss on the cheek or a hug at the end of coffee dates. She'll know you're interested, but not so interested you want to go right back to having sex. By "re-dating" her over time, you're adding an element of romance (and uncertainty) that was probably missing from your relationship. Be sure to balance your physical progress with your relationship repair progress. This healing and re-commitment time can take many weeks (or even months).
Hold your ground and be strong, but don't be an iceberg. She could decide you aren't interested (or want to control her) and move on. Besides, if you wait a long while to have sex with your ex, you run the risk that one or both of you will lose attraction for the other.
Finding the perfect time
Set a new power dynamic with your ex (unless she broke up with you for being too alpha, cheating, etc.) by demonstrating you don't need her back right away. Enforce a no contact period and go out with your friends.
Going out shows your ex you're a high dating market value (DMV) guy with options, you aren't heartbroken without her. Socializing helps you bond with your buddies, get the support you need, and stop moping around the house. If you stay in with your pain, you're much more likely to indulge in needy behaviors that will chase her further away: texting, leaving voice mails, stalking her on social media, etc.
Hit the bars and coffee houses with your crew. Meet other women and let your ex (or her friends) find pictures of you on social media having a good time and flirting with women. However, don't send pictures of yourself with cute girls to your ex; this move shows you want your ex to be jealous, which makes you look weak.
Let your ex become aware of your confident, unhurt reaction to the breakup "by accident." Likewise, take any pics of her on social media with a grain of salt – she's probably using the techniques I've described here to make you jealous. Just because people don't show their pain to the world doesn't mean they aren't feeling it. If the two of you loved each other, you surely miss each other. Don't mistake the tactic of seeming unhurt to create jealousy for a lack of feeling.
After an appropriate no contact period and demonstrating you're capable of going out and meeting people, choose non-sexual modes of communication. At first, don't meet in person – just text her and set up a phone call. Tell her you want to discuss the reasons you broke up and you'll end the call if she starts drama or expresses an unhealthy amount of sadness. Let her know you accept that she may not be ready to talk and you'll be available for another call (after a set period of time) when she can hold herself together and talk about the issues at the core of your breakup.
Your ex will probably need you to enforce your new boundaries by (kindly, of course) ending a call or two. Of course, don't even call her if you feel like breaking down or showing a lot of weakness. Save those emotions for after a long getting-back-together period; dole them out to her very slowly after you recommit.
When you and your ex can talk calmly on the phone, address one issue at a time (pick the little ones first). Resist the urge to express your feelings, even the ones you can keep under control. Show her that communication, not love and sex, is your first priority. By focusing on the aspects of your relationship you and your ex need to fix, you'll come across as an attractive and very strong person – and increase your chances of getting back together with her in a healthy way.
You may want her back, but you don't want to replay the past. It's time to set new boundaries, establish yourself as a powerful person, and get into a new, better relationship – not another version of your old one.
Ultimately, should I have sex with my ex-girlfriend?
Maybe. This crucial decision depends on the outcomes of your "relationship repair" conversations – and a lot more. Ask yourself:
How long were you together?
What commitments did you make to each other?
Did you cohabitate?
Do you have a family together?
Commitment, Relationship Logistics, and Sex with the Ex
As I said above, you need to get back together with your ex on your terms – and in your own time. You need to show your independence and self-control by prioritizing self-control, but it doesn't stop there. You need to examine your level of logistical entanglement.
Is it okay to have sex with my ex-girlfriend if we never lived together?
If you're thinking "I'm having sex with my ex-girlfriend on an on-and-off basis," be careful. She's probably not thinking the same thing – and you need to ask.
Sex with your ex-girlfriend can be fun – but not if she thinks you're getting back together. Be kind and let her go if you're only playing. Sex with an ex-girlfriend can lead to more drama and regret than it's worth.
Should I sleep with my ex-girlfriend if we live together?
If you're having sex with your ex-girlfriend while you're still cohabitating, did you really break up? Or, did you two just take a little time off to express your frustrations (and maybe hook up quickly with someone else).
Get honest with each other and make a lasting decision. It's probably time for one of you to move out – unless the two of you plan to do some quick and dramatic work on your relationship.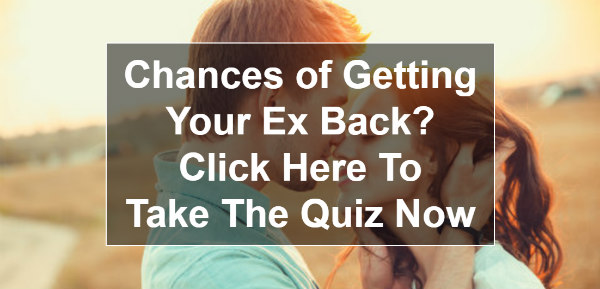 If you're typically a "sex with ex-girlfriend" kinda guy after your relationships end, at least do your current ex the favor of getting one of you moved out so as to not send mixed signals.
Is sex with my ex a good idea if we used to live together?
If you've moved out and moved on, you need to be sure your ex is one the same page. Is she trying to get you to stay the night? The weekend? Does she hint at your good old times together?
Unless you genuinely want to recommit, let go of the easy sex she's giving you. It isn't easy if people get hurt.
Should I have sex with my ex-wife?
The fact you were once married does not have an effect on the answer. Marriage is just a legal contract and it is the emotions and circumstances discussed in this article, that matter. So whether it's sex with the ex-wife, or sex with the ex-girlfriend, everything you already read on this page applies either way.
Is sex with your ex a good idea if you have kids together?
If you and your ex sleep together after a divorce/breakup, don't tell the kids. Don't let them even see you together until you're sure you want to be together for the long haul. See each other in hotel rooms, if you must, but don't confuse your children further by letting them think you may (or may not) be re-forming your nuclear family.
Oops, I slept with my ex! Now what?
If you and your ex have already hooked up, you're probably wondering, "Does this mean I want them back?"
You need to make a decision quickly. If you don't want to be with her and she thinks your hookup meant more than it did, you're in for some drama. Spare her the pain and break it off immediately– unless you really want to make it work.
If you're thinking, "I had sex with my ex, so I know she wants me back," be careful. Her emotions are in turmoil after your breakup/makeup and the storm isn't over.
For example, if you indulged in "drunk ex-girlfriend sex," you need to look out for buyer's remorse. In the cold (and sober) light of day, she may be much less friendly.
Don't sit around lonely saying, "But I had sex with my ex – why did we break up again?" Take action immediately to show her you want to attend to all the areas of your relationship – not just the hot and sweaty ones.
Give her the option of working things out with you, but remember – she could just have slept with you out of emotional pain and lingering jealousy. Also, she could just be keeping you around as Plan B (or C, or D…)
Fine – I slept with my ex and I know it's risky – how do I get her back?
If you genuinely want her back and need to learn how, I wrote a step by step guide here. If not, politely and kindly let her go.
If you're wondering, "Can sex get your ex back?" the answer is yes and no. Yes, sex strongly influences her emotions and she may want to give it another try. However, she may be asking herself, "I hooked up with my ex – what was I thinking!"
In the first few days following your hookup, wait for her to contact you. If you don't hear from her after half a week or so, reach out (casually) to her. If she still acts aloof, she probably considers your hookup a mistake – or was using it to make another guy jealous.
In the days you spend waiting for her to contact you, ask yourself, " I slept with my ex, how many other guys have done the same?" If she's playing it cool, she's probably just using you as a backstop. Stop communicating with her, save yourself additional emotional turmoil, and move on to a better match.
However, if she's willing to talk, you have a chance. It's a long road, but talking things out, taking time apart, and applying my get your ex-girlfriend back how to steps may solve the issue. Tell her you enjoyed the hookup but don't want to rush back into your old relationship patterns. Say you want to spend time with her fixing things and making them more solid. You'll win her respect – and maybe her heart!
I'm currently sleeping with my ex – is this a good idea?
If you're thinking "I have sex with my ex on a regular basis, so why does it matter?" ask yourself why you're reading this article. Which of the following statements resonates more strongly with you?
"I'm sleeping with my ex because I love her despite our troubles."
"I had sex with the ex recently, like I always do. It's just bonus sex that comes after relationships."
If you're just enjoying sex with the ex for its own sake, let her walk away. You can get other women – ones who might turn into good long-term partners for you. Go out, stop returning to her well, and enjoy the wealth of options waiting for you in single life.
If you love your ex and want to get back together, don't settle for sex alone. Get her to fix the relationship with you and start the communication process. If she only wants sex, you have to let her go.
The only way to make things work after a relationship is to get your ex to open up, trust you, and communicate about the reasons things went wrong. You need to create a better relationship than before and create a positive cycle this time. You can do it – just be sure to bravely address everything that needs fixing this time around.