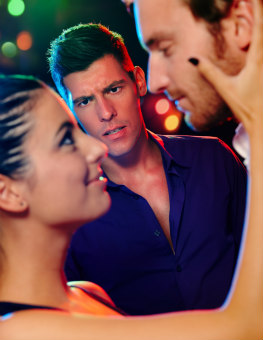 I really feel for you, discovering you've got a cheating girlfriend. I imagine your stomach feels like it just got ripped clean out. I should know. My girlfriend cheated on me too (an ex did) so I know exactly what you're going through. It's a truly horrible situation to be in.
The thing is, it's already happened. She already did it. There's no escaping or hiding from that fact. And that's why now, you're going to need a plan for how to proceed from here.
Because currently, I guess your head is all over the place and you're not sure whether you should try to stop your girlfriend cheating, dump her, or just sort of do nothing and hope she stops, letting it drift into the past.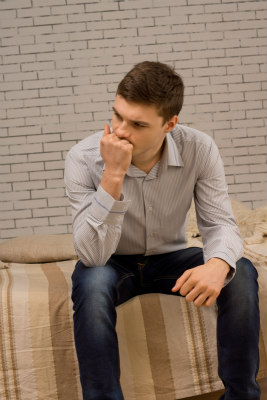 That's where I come in right now. I'm gonna talk you through what to do when you get cheated on and how to deal with a cheating girlfriend, which will vary depending on the TYPE of cheating that she's committed.
That's right, there are two different types of cheating that a girl can commit and each one requires a different approach from you. By the time you finish this guide, you'll be clear about where you stand and what you need to do in reaction to getting cheated on. Okay let's start.
"My girlfriend, she cheated on me! What to do when you get cheated on?"
Like I said above there's 2 types of cheating. What you should do next is dependent on which type of cheating she's committed. Here's the crucial question right now: did she cheat with a guy she started seeing BEFORE * OR * AFTER she met you?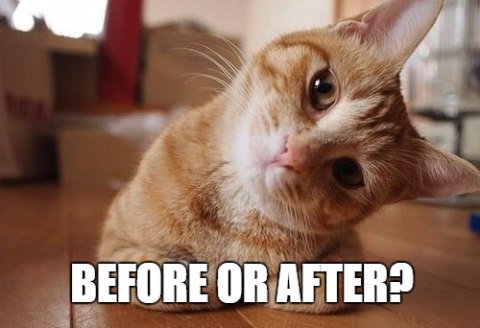 Until we know that information, we can't really proceed in any real meaningful or productive way. So once you know the answer, continue on below.
Cheating Girlfriend Type 1 – With a Guy She Started Seeing AFTER She Met You
This is the most common type of cheating. What happens is, the girl loses attraction for her boyfriend due to him making key relationship mistakes (mistakes that I talk about in my get your ex girlfriend back article), and she then starts looking for someone else…someone who's Dating Market Value seems higher and who'm she feels an attraction for. When she finds THAT guy, all of a sudden, that's when we may discover that we've got ourselves a cheating girlfriend.
Why does a girl cheat on her boyfriend?
She's basically trying to make up for the lost excitement that she used to feel for her boyfriend, by seeing someone new. In other words, not to excuse what she's done (it is bad), but she's trying to fill a void. So that's what makes a girl cheat on her boyfriend.
What that means is that her cheating is mostly her fault because she's been mistrustful and dishonest, but also you've kind of enabled it by allowing the attraction and excitement in your relationship to fall. Had you not allowed that, she wouldn't have cheated.
On the plus side, if you can get her attraction for you to come back, there's a decent chance that you can turn this whole situation around and get things back on track with her if you want to. More on that shortly.
Now, whether you decide you want to rescue your relationship with her or not, when you're the guy, and a girl cheated on you, the only productive way to react is for you to break up with her. Yes, YOU end it with her (at least temporarily).
Why?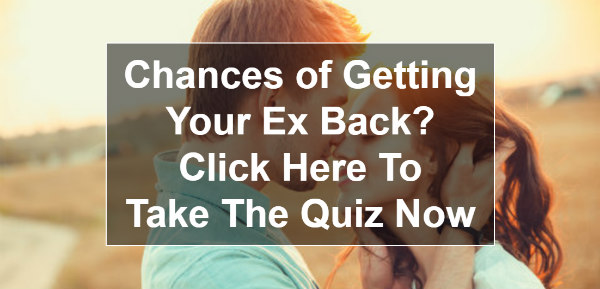 Well of course, if you've already decided you'd rather move on from her than try to repair the relationship, then breaking up with her is the only way to proceed. That doesn't really need explaining…you're sure you want out, so you break up with the cheating girlfriend. Simple as that.
But if you personally had already decided to break up and move on? You wouldn't have just searched online for "my wife cheated on me what do I do" or some other such related phrase, and found yourself here talking to ME.
Much more likely, you're thinking, "so my girlfriend cheated on me but I still love her, and if there's a way I can get the cheating stopped and make things work out with her, then I'm going to go ahead and do it."
Am I right? Is that how you feel, and what you want?
Okay cool. In this case, dumping her is still the best way forward if you want to save the relationship. That's because by cheating on you, she's disrespected you in the ultimate way, and if you allow that to pass without much of a fuss, then she'll lose EVEN MORE respect for you.
A woman cannot feel attraction for a man who allows her to disrespect him. Because, it's one thing for her to disrespect you, but when you actually ALLOW it and let her get away with it? Oh man that's a whole other level. She can't possibly desire you if you stand by and accept this kind of poor treatment.
"But Sam, if I dump her she might not come back to me after that??"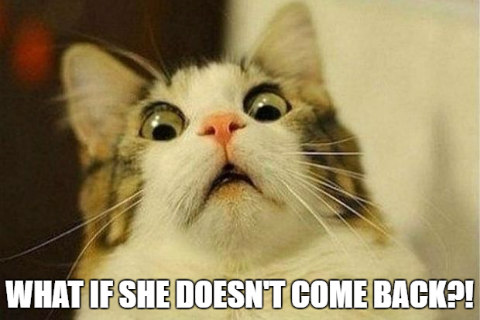 Yeah there's a chance of that, BUT if you DON'T dump her, she's gonna dump you anyway because you let her disrespect you so bad… If you DON'T dump her, it's over anyway.
At least by breaking it off yourself, you'll preserve enough respect from her that she MAY get back with you a little later on.
And if she doesn't get back with you? Then you'll have salvaged some dignity from a situation that was gonna result in a breakup anyway.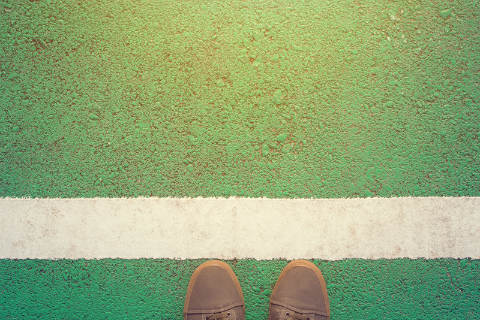 So come what may, if you have a cheating girlfriend, whether you want to repair the relationship with her or not, the only way forward is for YOU to break it off with her, at least for now. This way she can see that you have standards, just like any high value man does (she only likes high value men). That way there'll be a good chance that her desire/attraction for you can come back very soon.
What I'm saying is, if you've got a cheating girlfriend and you want her to stop cheating and resume your relationship back to the great times of the past, then you need to dump her first. Until that has happened, there's just no way for her to respect you nor for the attraction to come back.
And if those 2 things can't come back (a sound relationship is based on them) then you've got no hope.
How to break up with your cheating girlfriend
So it's been determined, there's no way forward without breaking up with her. Next, you need to work up the courage to actually go ahead and break up with her. I would encourage you to just sit for a while and let what you've got to do sink in. Take some deep breaths, and then once you've accepted what needs to be done, carry on through this guide.
I'll wait right here while you do that.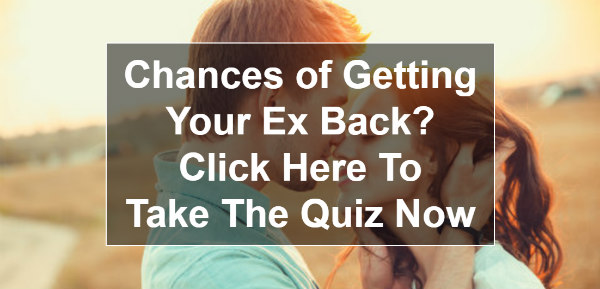 Okay so once you've found the courage to initiate a breakup (with the intention for it to be temporary, although she's not to know that), you should then organize to meet with her face to face.
Here's what to say to a cheating girlfriend: just tell her straight that you have standards and she has monumentally failed them. Say that for this reason, it's finished. Then nod your head and walk out with not another word. Be completely calm and in control the whole way through. No emotion.
Now, she's probably gonna react to that with a lot of tears. ONLY comfort her if you want to be friend-zoned and have the attraction fall even further. Otherwise, keep your cool, remain emotionless on the surface, and just leave.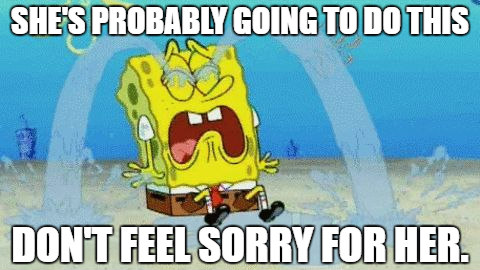 Do NOT stick around. You need it to be apparent to her that as a high-value man, your time is valuable and you don't spend it with people that disrespect you.
There are no questions to ask your girlfriend if she is cheating – say only what I just told you, and then leave. Will she like it? No, but she will RESPECT you for it, which is exactly what we need. The fact that she won't like it? A girl doesn't have to like you to be attracted to you.
—
Right, let's just have a quick recap over what we're going to do about this cheating girlfriend of yours, so that we're crystal clear about what needs to be done. First of all she has cheated on you, and you've then rightly broken up with her for it. That means the love of your life is now your ex.
Of course, you HAD to make her your ex at least temporarily, to claw back some much needed respect from her. Without that respect there was a 0% chance of you being able to get the cheating stopped and the relationship back to the good times of the past. The next part after breaking up with her, is obviously getting her back.
"But Sam, even though she cheated on me, if I just don't break up with her to begin with, then I won't need to get her back! Isn't there another way?"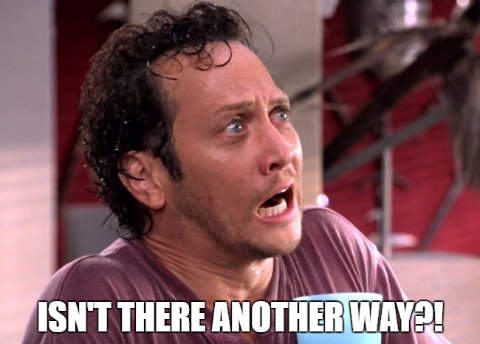 No there isn't, and you're missing the point. You had to break up with her to salvage some respect so that it can remain possible for her to feel an attraction for you again. Yes, that leaves you needing to get her back afterwards, but you had no other choice. If you didn't break up with her for cheating she'd have lost ALL respect for you, and you'd then have had NO chance of ever working things out with her. She can't feel attraction or respect for a man who accepts cheating!
So, after you've broken up with her, how do you get her back?
You may have noticed that this website is called GetHerBackGuide.com. Helping a guy to re-attract his ex is my area of expertise. Not only have I gotten my own ex back and gone on to have a very successful relationship with her, I've also helped thousands of other guys recover their relationships in the past few years.
As a result, I've developed a tried and trusted strategy for getting an ex back. Let's begin by you taking my chances of getting your ex back quiz, and we'll go from there.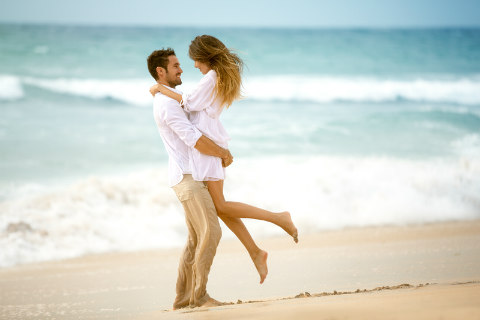 Remember, now that she's cheated, UNLESS you dump her first, there is no way for your relationship to work out. If you DON'T break up with her, very shortly she will break up with you anyway. She just can't allow herself to be with a guy who lets her walk all over him, the way you'll be letting her do to you, if you don't punish her severely for cheating.
Cheating is the ULTIMATE form of disrespect in a relationship, and the appropriate form of punishment is to tell your girlfriend it's over. She doesn't have to know that you intend for the breakup to be temporary – in fact it is exponentially better if she doesn't know that part!
Like I said, if you don't show her that you have standards and won't put up with her awful behavior (you show her this by breaking up with her), she'll take the initiative and end it herself anyway. Because emotionally, she simply can't desire a guy who ALLOWS her to treat him like she has just treated you.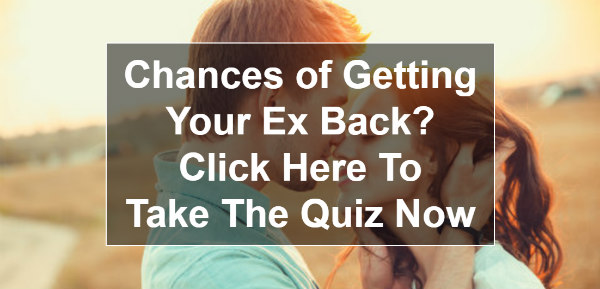 And if, by you failing to break up with her, you force HER to end it after SHE cheated, then it'll be harder than it would have been to get her back into a healthy, monogamous relationship a little later on.
For the reasons explained above, YOU NEED to break up with this girl for now at least. This is without doubt what to do when you get cheated on. After you've done that, you should then run the no contact rule.
Cheating Type 2 – With a Guy She Started Seeing BEFORE She Met You
Especially in the first 6 months of a new relationship, most girls will continue to see whichever guy they were seeing prior to meeting you. An attractive girl is ALWAYS seeing someone, and that includes the time at which she met you.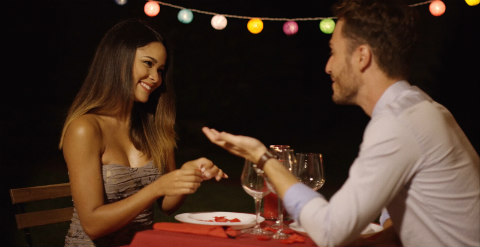 Because remember, she had NO IDEA that she was going to meet you. It's not like she could say, "well, in 2 months I'll be meeting my future boyfriend, so for the time being I'll stop dating anyone".
For you to expect that she wasn't seeing anyone before she met you…it's just unrealistic of you to expect that. It just isn't how modern dating works.
And if she had been dating another guy shortly before she met you (very likely), it would also be unrealistic of you to expect that she would just instantly put a stop to that arrangement, the moment she met you…after she'd been seeing him for perhaps months or even years. Because remember, you were new to her then, and he was already established. Technically this is cheating in the beginning of a relationship, but it happens a lot.
What I'm Telling You Is Women's Biggest Secret!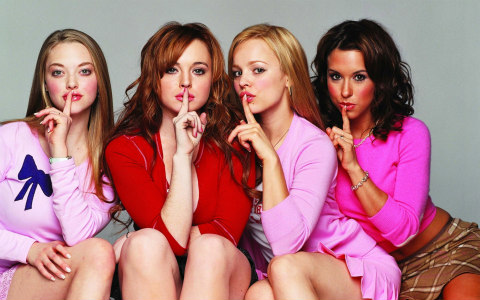 What I just said above is one of women's best kept secrets. They have a transition period in the early part of a new relationship, where they gradually commit to you and leave behind their previous guy. Commitment from a new chick does NOT happen overnight. Not even from the sweetest girl imaginable, who, "wouldn't possibly" see 2 guys at once.
Women are typically very discreet about their meetings with guys that they were already seeing before they met you, so it's likely that you'll never even find out. But if you HAVE just found out your girlfriend cheated on you and it was this type of cheating, here is how to play it:
How To React To Type 2 Cheating Girlfriends
Okay this is gonna sound brutal and to the point, so prepare yourself.
First, when a girl is cheating on you, you need to dump her for the cheating, and tell her that she's failed to meet your standards. If you don't dump her for it, she'll find it impossible to respect you given that she knows (that you know) that she's been seeing someone else behind your back.
I mean sure, above I gave an explanation of why most women have this dating-2-guys-overlap period, and how it's kind of understandable. BUT that doesn't mean that you can be seen to be standing for it from her point of view. No, quite the opposite… You need to show her that, with you being the high value type of man that she desires, you won't put up with this behavior. You need to show her that you'll actively punish this behavior. Breaking up with her is the correct punishment for what she's done. Or at least, it's the correct punishment if you want her to respect you, stay attracted to you and leave her last guy fully behind fairly soon.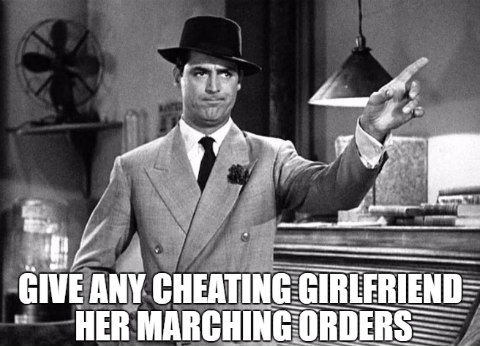 Next, after several days of having dumped her, tell her you've had a good long think, and you can see that it was unrealistic of you to expect her to just drop her last guy right away – at a time when you and her were still new, and her thing with him wasn't. Say that you're willing to give her another chance, but ONLY if she gets rid of him at this point.
Notice the underlining just above? You have to frame it as YOU are giving HER another chance. This way, a dynamic is set between you guys in which YOU are the chooser, and she is the one who's lucky enough to be chosen. Conveying yourself as the chooser tells her that your Dating Market Value (DMV) is higher than hers, because the higher value individual out of the two will always be the one that has the final say/choice in any type of relationship. She knows that this is how it works.
So what you're doing is giving off a sign that your Dating Market Value is high, and she's likely to respond to that with increased interest, because she likes high value men.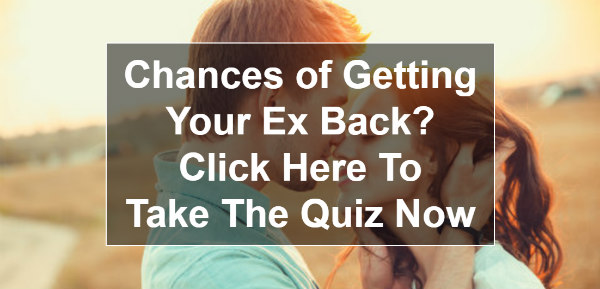 The dynamic described above is subtle, but a woman's interest in you will truly blossom when it is present.
Equally, her interest in you will fall when it's the other way around (her choosing and you chosen). That's because when she feels like she's the one choosing (the one with all the power), she perceives her own value as the higher of the two. It can't be like that if you want things to work out with a girl in the long run.
Instead, she NEEDS to feel that she's with a guy of at least slightly higher value than her own perceived value. That way her interest can last the distance.
Of course, most commonly, women choose and men take whatever they can get, but this dynamic ALWAYS FAILS sooner or later…just look at the divorce rate. Women are initiating most of those divorces.
If a girl's desire for a guy is going to come back, he needs to flip that choosing-chosen dynamic on it's head (in your case, by making YOURSELF the chooser).
Okay so, back to this other guy she's been seeing. In an ideal world for you, she would have just dropped him like a sack of potatoes as soon as she met you. The problem is, we don't live in an ideal world, and consequently there is often months of overlap as a chick moves from her last guy to her new one.
Now look, I know that that reality isn't nice for you to be encountering. I wish things were different, but unfortunately that IS the reality of how modern women run their dating lives. What it means, is that if you think that apart from this situation, she'd make a good girlfriend, then it could be worth accepting what she did, and giving it another shot with her, but only after you've punished her for it by temporarily breaking up with her.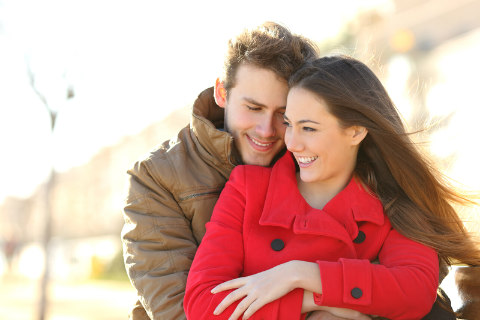 Technically what she's done IS cheating, sure, but realistically, nearly all chicks do it and it is just a fact that there is a degree of overlap between previous guy and new guy. That IS what happens with new relationships in western countries these days, and if you can't accept it, then you'll just have to wait until you meet a girl who hides her 'overlap period' really well, and never lets you find out about it.
You may think I'm crazy for suggesting that it could be a good idea to accept that your girl carried on seeing her previous guy after she met you, but man, almost all women do this! Think about it: if she's been seeing a guy for 6 months before she met you, she's probably not going to say to him, "I can't see you anymore", the second she meets you. Why not?
Because YOU don't mean that much to her yet – you haven't been with her for long enough to give the relationship that much importance in her mind yet. It needed more time first.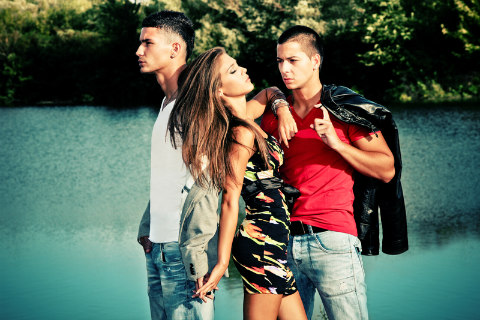 Then, in time, she'd see that what you have with her has the potential to be very long term, and she'd THEN (and only then) leave her last guy in the dust.
But she won't fully leave him behind until she's totally sure of YOU, and that takes time! So overall that's why she cheated on you if you have a type 2 cheating girlfriend.
In the end you will have to make a judgement call on this 2nd type of cheating girlfriend, yourself. I'm just saying that it's a fact of life that women always have a guy somewhere, and they transition from him to their next guy (you) slowly, while seeing both him and you at the same time for a few months.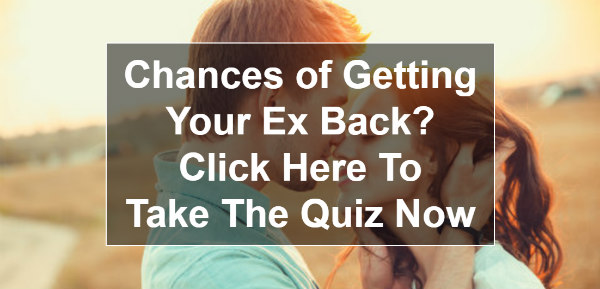 That doesn't necessarily make her poor girlfriend material like it might if she had gone and found an entirely NEW guy after meeting you… It's not like you're coming to me saying, "my wife has a boyfriend". That's totally different. This is an old boyfriend of hers that she's been seeing since before she met you, and it's pretty much habit for her to see him, so naturally it takes her a while to fully leave him behind. And if, in your mind, that makes her poor girlfriend material, then you're pretty much ruling out ALL westernized women as potential partners.
In summary, my advice to you for a Type 2 cheating girlfriend is as follows: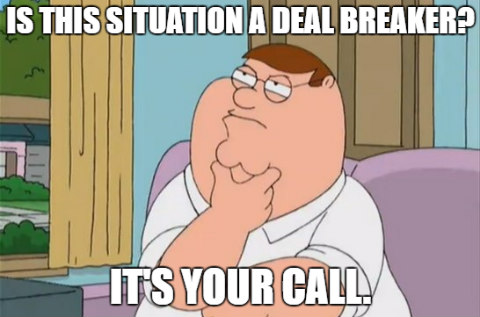 Dump her initially to show that you mean business and won't stand for poor treatment. Because remember, despite the fact that the 'dating overlap period' is somewhat understandable, she won't be able to respect you if she believes that you'll put up with it. I know you might be doubtful but this IS what to do if your girlfriend cheats on you.
Next, call her a few days later to say that you've had a think and you understand her situation, and you're willing to give her another chance on the condition that at this point in time, she agrees to stop seeing the other guy.
After breaking up with her
After you break up with her, she may not make it particularly easy for you to get her back. Make no mistake, you NEED to break up with her to recover some respect and thus salvage her capacity to feel attraction for you… It's not like you can skip this part, because if you DO skip this part, it's over in any case since she can't respect or be with any man who knows she cheated and let it slide.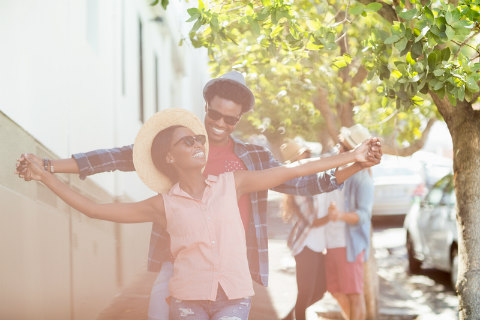 So it's got to happen (you initiating a breakup with her), it's just that it leaves you with a NEW problem after you've broken up with her – getting her back.
As a matter of urgency, I should mention that most guys make key mistakes when they're trying to get a girl back, especially after getting cheated on. These mistakes cause TERMINAL damage to their chances of actually getting the girl back in an honest and committed relationship.
Honestly, there's no doubt in my mind that if YOU try this alone, you (yes even you bro!) will almost certainly make those key mistakes, thus causing irreversible damage to your chances of getting things to work out with this girl in the end.
Because think about it, if you're taking stabs in the dark in terms of how you approach getting a girl back, and you don't particularly know what you're doing, what's the chances of that actually working? Not too likely right?
Exactly.
I recently wrote an article that walks you through THE actual process that WORKS for getting a girl back, time and again. Click the following link to read that all-important piece.
If Your Girlfriend Cheated Will She Cheat Again?
Will your girlfriend cheat again? If she cheated once will she cheat again? I get these questions a lot, and my answers are always the same: If you learn the stuff that I have in store for you, and we're able to solve this situation (decent chance we can), then there's absolutely no way she'll cheat on you again. Getting cheated on will be a thing of the past.
Why am I so sure?
Because a girlfriend or wife who's attracted to you and is convinced you're a high value man, has no reason or inclination to cheat.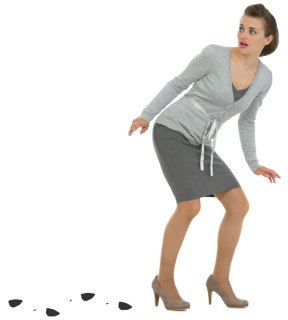 Now that you've found this website, things are going to change, for the better obviously! If you're able to say, "I got cheated on", again after you and I are done together, I'll eat my damn hat.
What To Do When Your Girlfriend Cheats On You, THE Steps:
Accept that as she's disrespected you so badly, only dumping her (at least temporarily) is going to salvage enough of her respect for it to work out between you in the end.
Break up with her. There's no other path that leads to the cheating stopping and things getting back on track.
Spend some time apart.
Tell her you've had a think and may be willing to work things out, so long as the cheating stops.
Cheating Girlfriend FAQ
What if my girlfriend cheated on me with my best friend?
Then your best friend is no longer any type of friend. There's no coming back from that.
Your girlfriend's cheating may have been partially your fault (because you allowed her to lose attraction to you), but when she's chosen your BEST FRIEND to do the cheating with? Man, you should walk away from both of them. It's unforgivable, and even if you do forgive them, neither of them will ever be able to respect you for giving any part in your life to people (them) that treated you like that.
My system for getting an ex back is very powerful, but please don't use it if your girlfriend cheated on you with your friend. Walk away.
What if my EX cheated on me? …What if we're ALREADY broken up? She cheated but I want her back!
If your EX girlfriend cheated on you, then this article was not for you, and you instead need my article on how to get your ex back.
My girlfriend IS cheating on me, STILL EVEN NOW. She KEEPS cheating on me! What do I do?
When she cheats on you and is still doing so even now, the content of this guide (on what to do when your girlfriend cheats on you) could NOT be more relevant. As tough as it will be, follow along with my recommendations. And I say that whether you want to get the cheating stopped and work things out, or move on. When she is cheating, you have to react firmly and make very clear you won't accept that behavior.
My girlfriend cheated on me with her ex but she had been with me for more than 6 months. She is the love of my life! What should I do?
So your relationship with her wasn't new anymore by this point, right? Okay, in this case, if your girl cheated on you with her ex, it isn't so excusable like it would've been if the relationship (you and her) was still new. That's why for this situation, best results will come from treating it like you have a Type 1 cheating girlfriend.
Go read that section above and apply the advice that you find there. It won't be easy, but like I said, it is THE action you can take that is most likely to get the cheating stopped and you and her back together in a healthy relationship, fairly soon.
I literally caught my girlfriend cheating on me. It was unbelievable. I was cheated on by my girlfriend and I literally SAW it happen! Does this change anything?
If you found your girlfriend cheating, it would be better if you kept emotional control and peacefully kicked them both out INSTANTLY. But as far as what to do from here when your girlfriend cheats on you? It doesn't change anything – follow what to do if your wife cheats on you as above in this article (wife or girlfriend).
My girl cheated on me while she was DRUNK. Does the fact that she was drunk change anything?
No. You still can't be seen to be standing for cheating, whether she was drunk, high or in any other state. The content of this article STANDS if your girlfriend is a cheater but was drunk when she did it. In fact it stands as what to do after she cheats in almost any other circumstance too!
My girlfriend TOLD ME she cheated on me. Now what? How should I be reacting to that?
If she's told you about it, it's both a good thing and a bad thing. It's a good thing because she's come clean and now you know the truth. But it's also a bad thing because if she's willing to tell you about it, then she must currently be willing to risk losing you. That means her attraction for you must be very low right now.
Regardless, you should react by using what I recommend above in this article for what to do with a cheating girlfriend. You've GOT to show her that she's completely failed your standards, and that you won't tolerate it. That is, if you want her to respect you enough such that she'll be able to feel attracted to you again fairly soon (if she was still attracted to you right now, she wouldn't have told you about the cheating, in fact she wouldn't have even cheated).
My fiancee cheated on me. Does the fact that we were due to be married change anything?
It doesn't change anything. Cheating girlfriend, cheating fiancee, cheating wife – it's all the same thing. React as this article advises above, for best results!
What if my girlfriend cheated on me with a girl?
Is this the first time she's done it, or is she known to be bisexual? If it's the former, I don't think it's too much of a red flag. Punish her for it by withdrawing your time for a while.
If she does it a second time or is bisexual and has been with many girls, then you'll need to follow along with this article just the same as if she cheated with a guy.