Like it or not, attraction can be gained or lost by how you play it with your ex via phone calls or texts. In actual fact, it's much easier to lose attraction than gain it over the phone, on skype or via text, so for the more part, Step 4 here is about doing what you can to avoid losing attraction rather than making any big gains. The big gains (attraction and feelings wise) can only really come face to face. That's why the goal of Step 4, the non-face-to-face communication phase, is simply to get to the point where you are set up with a scheduled meet between you and your ex. Because only face to face can you make the actual getting her back part happen.
There's 2 scenarios you might be in right now. You're either in a situation where she's tried to contact you first (preferable) or she hasn't. As you know, if she's tried to contact you, you should wait until she's tried X times before replying to her. If she hasn't attempted contact, there's guidance for that situation further below.
Like I mentioned, Step 4 here is mostly about cutting out attraction loss during NON-face-to-face communication, and hopefully increasing attraction through it where possible – but ultimately the goal is to get you and your ex face to face where the getting her back part can have a chance to happen. To maximize your chances, follow the 11 high DMV ground rules below for calls and texts. If your ex has already tried to contact you X times, then the 11 rules below are all you need from Step 4. If she hasn't reached out by the end of the No Contact Period, then scroll to below the 11 rules and I'll show you how to start up contact with her.

Rule 1. Only communicate with her during the afternoon and early evening.
In the late evening we want her thinking there's a chance you're potentially meeting new women, or at the very least busy with your social life, so you must be totally unresponsive from 9pm onwards on any day. Yes, that means if she messages you at night, you gotta wait til the next day to reply. This will BUILD attraction, not kill it – so hold your nerve and do it. After 9pm, don't use any apps or social media sites that would show her you've been online (because then she'll think you're ignoring her (bad) instead of thinking you're occupied with something else (good).
As for mornings, people generally keep busy and run errands in the morning, so she's UNlikely to be receptive. She may look at your text or incoming call, realize she doesn't really have time to respond in that moment, ignore it momentarily and then totally forget about it. For this reason, you should communicate with her only after midday. So overall you have a 9 hour window of communication on any particular day – that's midday until 9pm.
My best tip here would be to go with texting between 12pm and 6pm, and then try phone calls after that in the early evening (between 6pm and 9pm). The theory behind this is that between 12pm and 6pm she's likely working or commuting, so I give that tip out of practicality as much as anything.
The only exception for calling during the day would be if you know when her lunch break is. That way you know she's got time to chat. Remember though that this is generalized advice from my position of not knowing your ex's schedule. You know her schedule better than I do, so take my advice and the reasoning behind this tip into consideration, and then make your own judgement on when would be the best time to communicate with her to get the best results.
P.S. NO LATE NIGHT ANSWERING OR CALLING!!! You can start doing that again if/when you get to a point where you're sleeping with her again, and even then you should only do it intermittently.


Rule 2. Do not contact her on Fridays or Saturdays (unless absolutely necessary – and even when necessary, make your replies EXTRA short – like 3 words or less).
Fridays and Saturdays are peak social times. As she's not currently your girlfriend, to give her your attention at these times would indicate to her that you have nothing going on socially. It's much better to ignore her messages at these times, and to minimize time spent on social media so that she can't see you've been going online (and thus know you've been seeing her messages).
Doing this will give her the opportunity to consider that perhaps you've got something going on socially, and that maybe there's even another woman involved. If she sees this as a possibility, it would increase your DMV to her, but also it may build in her the state of worry and dread that she's losing her grip on you. This feeling has the potential to shake away the boredom and stagnation she has felt towards you lately, and bring in a feeling of competitiveness to win you over again.
So really Rule 3 is to make all your contact with her Sunday through to Thursday (on any of those 5 days in the week).


Rule 3. Make your messages to her …
This builds a frame in her mind that SHE is now the one chasing YOU because
The rest of this Rule is available to Premium Pass Holders only! Click here to get your Pass now!
The other 8 Rules from this Step (5000 words of content) are available to Premium Pass Holders only!
Click here to get your Pass now!
Conclusion To The 11 Rules
It might seem as if the above Rules are somewhat childish, but feminine women ARE childish and they do play head games with men. In this situation you gotta get your hands dirty, join in the games and beat her at them. There is no other way to build attraction from non-face-to-face communication, and if you've just signed up for this Guide, then it likely isn't quite time for a face to face meet just yet.
Also, don't be intimidated by the number of Rules (11). If you make the odd mistake here or there, it's not a dealbreaker. Just follow them as best you can.
Last thing I want to say here – many of the Rules above can assist you in face to face interactions too. Being playful, giving indirect answers to questions, taking your time replying etc. These things are almost always a good idea. Overall, there's lots of things you can take away from the Rules that you can use on all women going forwards to better attract them!
"She hasn't contacted me and the No Contact Period is finished, so how should I reach out to her?"
OR
"We had some communication going after the No Contact Period finished, but she's since stopped replying, so how should I reach out to her?"
If your ex doesn't contact you first, after either the initial X days of no contact (Step 1) or after contact has been made but it has fizzled out – then it means that her attraction for you most likely has not risen from it's slumber just yet. Thus, you need to try to shock that attraction back into life. There are various techniques you can try for this. The target of the first contact is to create an emotional impact on her. Only this way is she going to want to engage in a dialogue and rapport with you, which could then lead to a meet.
To avoid seeming needy and desperate where possible, it should also be something that doesn't look like you put too much thought into it, and didn't cost you much time either. This rules out long explanatory messages about what you got wrong in the relationship, how much you miss her etc, but you already know those are bad. The techniques below, however, are what you should try next. Try them in order – so if one doesn't work or if you've used it already, go ahead and use the next one.
Technique 1: Turn up at her house out of the blue
I know this idea is contradictory to what I've said about effort and chasing, but hear me out. After the No Contact Period is up, one risky but possibly highly rewarding option for resuming contact is to put any phone or text communication on the backburner temporarily and just rock up at her house without her knowing that you're gonna do so.
Now of course this would be you chasing her, but after over X days of No Contact in which you didn't chase her at all, turning up out of the blue could be plausibly gotten away with. It's a risk for sure, but with a potentially huge reward, because if the No Contact Period made her miss you, then seeing you face to face may just lower her guard enough that a playful conversation and some touching (if it's going well), may have you looking at getting back together.
Equally though, she may not yet miss you at all and may ask you to leave. That's why this is a risky option, but even if that happens, all you need to do is a bit more No Contact to cut out any attraction loss from this, and then try Technique 2 below. Of course it wouldn't be ideal if rocking up doesn't work, but it's not something that is gonna make or break your quest to get her back. And with the potential reward being so high, it's worth a shot so long as you're not completely sure it wouldn't work at the moment. It's really up to you to make a judgement call about whether you think this could possibly work at the moment (i.e. whether you think she's missing you or not). If not, skip it and start with Technique 2.
With all that said, if you live more than a 30 minute drive away from your ex, then the huge effort that she'd be able to see you made, just to see her with no guarantee that she'd even want to talk to you, would ramp the desperation and chasing dynamic right up to the point where Technique 1 probably isn't worth it. So if you live 30+ minutes away from her, start with Technique 2. If not though, decide on a time that you think she'll be home and not too busy, and go round there. I'd imagine a Sunday or weekday evening would be best.
It's important not to forewarn her that you're coming. That would give her the chance to put her emotional defences up and block you out, regardless of what she really feels for you. The spontaneity and audacity of just turning up gives you a better chance of success, coupled with her emotional defences being down since she doesn't know you're coming.
Do NOT take flowers or any other gifts. Turning up is one thing, but trying to get her approval and affection by giving gifts – that's another thing entirely. Just turn up well groomed. Get a haircut beforehand, and wear some smart but casual clothes – a little better than you might usually. In short, look like you're in the process of reinventing yourself without trying to show it. If you can be in better physical shape (although this is a big ask given that No Contact was less than X days long) then that's gonna help.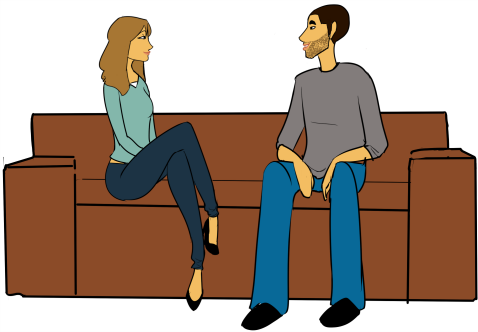 Your aim when you get there is to try to have a lighthearted and positive chat, where you throw in some jokes and some playful teasing when possible. If she's receptive to that, then some light touching will really help too. Avoid talking about the relationship until she brings it up – just keep the focus on having a light and enjoyable conversation. Essentially, follow Step 5 (which guides you through what to do when seeing your ex).
One thing she is sure to ask is "why are you here?" You'll need an answer for that. If you've got a legit reason such as "You left a few things at my place – just returning them. Now that I'm here though, let's talk" – then that's gonna be good. If not though, think of a playful reason. Example "Just to check that you're surviving without me." Then just go ahead and see if you can build a rapport with her and see how far you get.
Before you try Technique 1 here, be sure to go through Step 5 first. Step 5 shows you what to do during meetings with your ex, so it's important for you to go over that before trying this.
After Technique 1, wait X days (number revealed in full version of Step 4) – to give her a chance to start a conversation, but try Technique 2 if you don't hear from her.
Lastly, if you're totally uncomfortable with doing this, don't worry! You can start with Technique 2 instead if you want, and try Technique 1 later if/when it feels right to do so.
Technique 2: Send Her a Picture That Will Inspire Positive Emotion In Her
Find a picture from your phone's memory that you believe will make her feel like she misses old times between you. The obvious choice would be a picture of you and her doing something together, although it doesn't necessarily have to be a picture of you guys. It could be a picture of your pet, or something you both found really funny – anything that you think would make her positively reflect on the time you spent together. Take a look through the collection on your phone and find the best fit.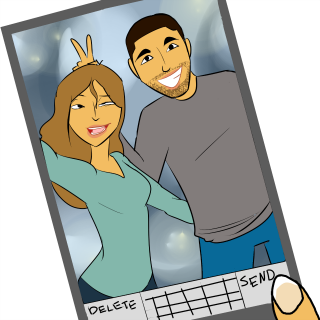 Now, usually, sending your ex a picture of you and her from the past, would make it clear to her that you have been sitting around looking at pictures of her. I don't need to tell you what this would imply to her – that you're absolutely still in love with her and are missing her like crazy. I know that's actually true, but if she knows it to be 100% true, you then become no challenge at all to her and thus any interest she feels will drop. That's why this has to be done in a certain way.
SIDE NOTE: As a man I know you want to be honest about your intentions. If you want her back, then you feel like you want her to know that you're trying and doing everything in your power to make it happen, so that she can see you're the best man she can get. That's the logical thing to do and truly, I wish it worked. But it doesn't with almost all women, because they need challenge and excitement rather than absolute certainty. I'm just telling you this so that you recognize that doing what you can to hide your total dedication to getting her (and only her) isn't a waste of time – it's actually important to avoid turning her off.
So find a picture that you think will bring positive emotion out in your ex. Send it to her along with a few words to get the conversation started. For example:
"Just deleting old photos and saw this. I'd forgotten how cute your drunken smile is!"
The backstory is that you were clearing your phone's memory and just so happened to see this picture. This reason does the job of making it clear that you weren't perusing old photos because you miss her and are desperate to have her back. It's an indicator to her that you're feeling strong and undergoing the process of moving on, which may actually get her panicking that her grasp on you is loosening, and the feeling of loss might prompt her to backtrack her decision.
NOTE: A lot of guys come to me and say, "But if she thinks I'm moving on, won't she lose interest?" In my experience with all the clients I've dealt with as well as my own experience with women in general, and the experience of friends, women do NOT lose interest in a man due to HIS interest in her stopping. Logically it's a good argument that she might, but as you know, there's no place for logic when it comes to attraction. It just doesn't work the way you think. A woman doesn't get attracted to a man's interest level – she gets attracted to the DMV level he emits – whether he's interested in her or not.

After you have sent the picture message
Wait for a reply from her. Then use the context of her reply to
The rest of this Technique is viewable for Premium Pass Holders only! Click here to get your Pass now!

The other 5 Techniques (3200 words) for reaching out to an ex girlfriend are viewable
for Premium Pass Holders only!
Click here to get your Pass now!
One Last Thought for Step 4
You may think that what I teach is encouraging you to lean more on the side of being an asshole than a nice guy, and the truth is that I will literally tell you whatever actually works in the real world. I don't like the fact that this is what works – but this is the reality we have, so we must adapt to it if we want to succeed.
In the last 50-60 years there was a shift where women became a lot more independent, giving up more traditional female roles to take on careers etc. This meant that the nice guy type who in the past was able to keep his woman long term by providing for her, even though he had no 'badboy' attractive qualities, can no longer succeed in this day and age – because now women provide for themselves since they have careers. Basically, the game has changed to where being a 'nice guy provider' gets you nowhere because women don't need that sort of support anymore, so they instead go for the exciting and attractive 'badboy' type of guy, which is what I'm teaching you how to be more of in this Guide. I'm not saying you should become an asshole, I'm just saying that there's certain traits that assholes tend to have that get and keep women interested, and working them in here and there will get you more success in love going forwards.
Click To Show Key Points of Step 4
Introduction
Step 1 – Run The No Contact Period (The RIGHT Way)
Step 2 – Add These Ten Attractive Qualities To Your Behaviour
Step 3 – Send Out High DMV Signals Without Contacting Your Ex
Step 4 – Communicate With Your Ex-Girlfriend Smartly
Step 5 – Meet With Your Ex Using My Clever, Strategic Plan
Step 6 – Tempt Her Into Wanting a New Relationship With You
– – – – –
Bonus 1 – The Three HUGE Mistakes Most Guys Make After Getting Their Ex Back
Bonus 2 – Your Relationship First Aid Kit
Bonus 3 – The Seven Pillars of Making Yourself Dump-Proof
Closing Words
Click Here To Show FAQ